This year have been more than a fair share of deaths of movie and TV actors, and pop stars, this year. I think it's fair to say we're starting to feel battered by their deaths, day after day. Who do we wake up to next? Many, like George Michael, were part of my youth. He was 53, I'm nearly 50. I feel more vulnerable with his passing.
Yesterday's sadness has left social media in meltdown. Carrie Fisher, the irrepressibly, outspoken actress and author, the iconic Princess Leia Organa in the Star Wars franchise, passed away several days after her cardiac arrest on a plane last week.
Of course, what made me shed tears was not the eulogies by shocked Twitter users, but the simple tweets from the account of Gary, her dog.
Of course, she was so much more than that. To Star Wars fans everywhere, she will be forever Princess Leia. To others she was General Organa from the latest films in the franchise.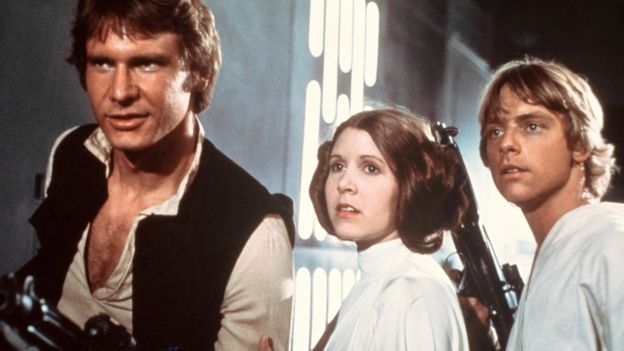 I suppose I remember Carrie really from the eighties and nineties as an actress in some of my favourite films,
When Harry Met Sally
and
The Blues Brothers
. After that I was running a business and bringing up kids, and I didn't really pay attention to Hollywood for a long time. For me, Carrie emerged again relatively recently as a brilliant guest on
The Last Leg
.
I also discovered this week Carrie was a
kickass script doctor
in the 1990s; responsible for movies such as
Sister Act
,
The Wedding Singer
,
Lethal Weapon 3
, and
Hook
. It grieves me that I learned so much about Carrie in her illness and death. Isn't that always the way? You find out who the real person is after their death? This certainly true for George Michael.
Social Media has been talking about his secret generosity all week
.
I don't know who is your Carrie, but I'm a middle-aged woman who loves dogs. Every time I saw Carrie with Gary it made me smile. I could relate to the two of them. Okay, she was a movie star and author, but she didn't look impossible perfect like some movie stars; primped, toned and plucked. Carrie looked as she was, a middle-aged woman who loved her therapy dog, Gary, a French Bulldog.
If I could grow up to be like her, the world would have to duck. Carrie had a wicked sense of humour and she didn't pull her punches at all. Is it okay to feel a tad sorry for Harrison Ford here?
Today I bought
The Princess Diarist
to learn more about the woman behind the dog-lover, the buns and the bikini. I don't know enough about Carrie Fisher, and that is a real shame.
.